June 8, 2023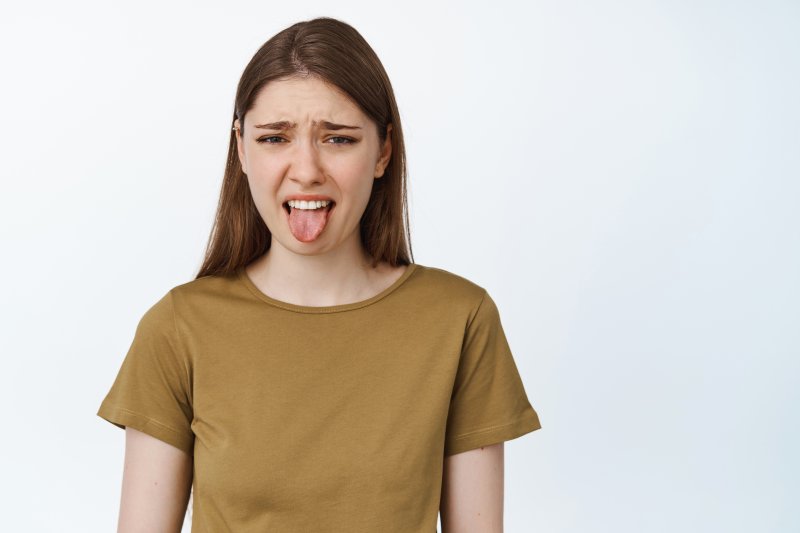 One of the reasons why dentists are so important is that it can be really hard for the average person to tell exactly what it is that's happening with your smile. Things like discoloration can mean lots of different things, and picking out the exact cause takes years of expertise.
Having a bitter taste in your mouth, for example, is something you should probably talk to a dentist about dealing with. Until you can meet them in person, here are a few possibilities you may want to consider.
What Kind of Bad Taste is a Problem?
First of all, it's worth finding out whether the bad taste in your mouth is just a passing thing, or whether it's indicative of a deeper issue. Food tastes (even unpleasant ones) aren't necessarily a problem— you need to be more concerned about foul, metallic, or overly bitter tastes. The exception is a salty taste, which can also be a problem in some cases.
You also shouldn't necessarily be concerned when the problems first start. A bad taste worthing talking to someone about should last all day, and be resistant to brushing.
What Could Cause a Bad Taste in Your Mouth?
There are a few things that can cause a perpetually bad taste in your mouth, some more serious than others.
Dry mouth is probably the most common. If you've ever noticed that your mouth has a funny taste in the morning, it's because of that dry mouth. Experiencing that kind of thing throughout the day means that something about your lifestyle is inhibiting the production of saliva.
It may be the case that you're dehydrated. There are also some medications, like antidepressants, that can cause chronic dry mouth. You should check with your dentist about any new medicine you're taking.
More seriously, a foul taste in the mouth could be a sign of an oral infection. You may be suffering from serious gum disease, or you could have an infection attacking your tooth. If the taste in your mouth is associated with any kind of inflammation or discomfort, you should talk to your dentist immediately.
About the Author
Dr. Terry F. Rakowsky has built his career and his practice based on integrity and trust. That's how he's managed to stay in business for over 35 years, and how he feels that he can continue to help his patients smile well into the future. Dr. Rakowsky received his dental doctorate from the University of Pennsylvania School of Dental Medicine. He routinely completes continuing education at the Dawson Academy and Las Vegas Institute for Advanced Dental Studies.
If you have any questions about how to handle an oral infection, he can be reached at his website or by phone at (215) 348-2224.
Comments Off

on What's This Bad Taste In My Mouth?
No Comments
No comments yet.
RSS feed for comments on this post.
Sorry, the comment form is closed at this time.