Dental Implants – Doylestown, PA
The Gold Standard for Replacing Missing Teeth
If you're tired of dealing with missing teeth and unreliable replacements, then dental implants may be exactly what you need. This state-of-the-art treatment replaces an entire tooth from top to bottom, creating a prosthetic that is practically indistinguishable from the real thing. Whether you are missing a single tooth, all of them, or a number in between, Dr. Rakowsky can use implants to bring your smile back to life and restore your oral health for decades to come. The path toward new teeth is easy when you partner with our dental office, and you can get started simply by contacting us today to discuss replacing missing teeth with dental implants in Doylestown, PA.
Why Choose Dr. Terry Rakowsky For Dental Implants?
#1 Beautiful Restorations Custom-Made for Each Patient
#2 Dentist with Over 30+ Years of Experience Serving Doylestown
#3 Partnered with Local Specialist for Best Possible Results
What Are Dental Implants?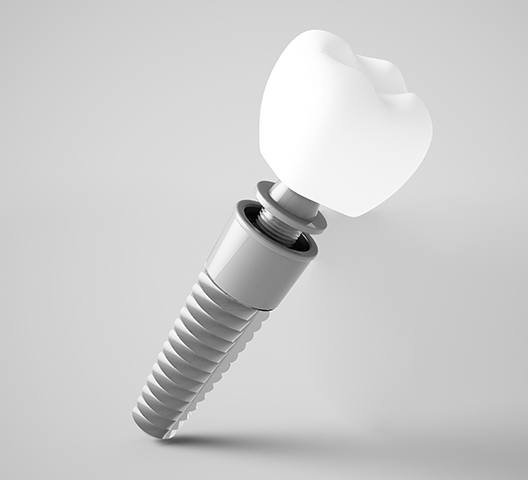 Natural teeth have two parts: the crown you see above the gums, and the roots that anchor them in place. Traditional tooth replacement options like dentures and dental bridges only replace the crowns of missing teeth, which leaves a lot to be desired in terms of stability and comfort. However, dental implants are considered the gold standard for replacing missing teeth because they restore every part of a missing tooth above and below the gumline.
A dental implant is a very short and thin titanium post that is placed directly into the jawbone in the space left by an absent tooth. There, through a natural process called osseointegration, it bonds with the surrounding bone, essentially becoming a new tooth root. This can then be used to support a patient's dental restoration, including a crown, bridge, or denture.
The 4-Step Dental Implant Process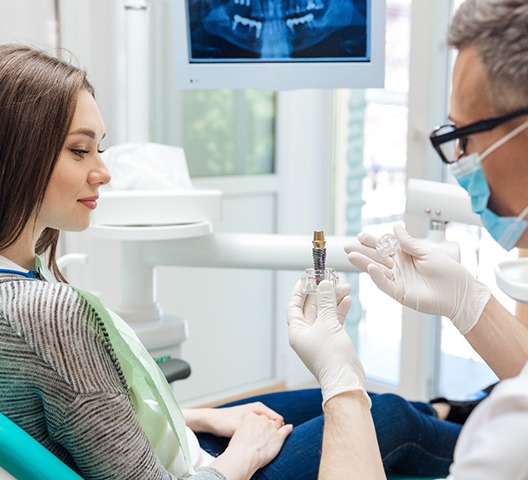 Unlike regular dental bridges or dentures, rebuilding your teeth from the roots up is quite complex. This means that the dental implant process requires multiple appointments that can span several months to a year or longer. In the end, though, you'll have a beautiful, natural-feeling smile that could potentially last for a lifetime!
During your consultation with Dr. Rakowsky , he'll go over what you can expect throughout your treatment and answer any questions you may have about how dental implants work in Doylestown. Each patient's journey is different, but for now, here is a basic outline of the four-step dental implant process.
Initial Dental Implant Consultation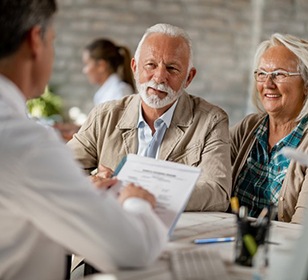 First, you'll meet with Dr. Rakowsky to discuss the basics of dental implant treatment. He'll review the specific goals you have for your smile and address any concerns. Then, he'll go over your medical history and meticulously examine your mouth and jaw to determine whether you're eligible for dental implants.
There's a chance he may recommend preparatory procedures before you can schedule your dental implant surgery. Issues like gum disease and inadequate jawbone density can lead to dental implant failure, so you may need to undergo periodontal therapy or bone grafting beforehand.
Dental Implant Surgery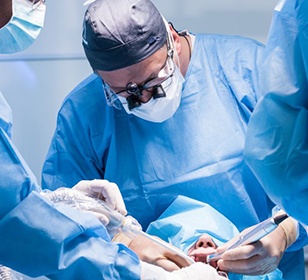 Once Dr. Rakowsky has confirmed that you're ready, he'll refer you to a local oral surgeon who has specialized in the placement of dental implants in Doylestown. Partnering with experts for this procedure leads to the most comfortable experience, more predictable results, and greater peace of mind overall.
The procedure begins with the oral surgeon numbing your mouth and administering sedation to ensure your comfort. Next, they'll make tiny incisions at precise locations in your gums, through which they can insert the implant posts into your jawbone. The posts are topped with a cap to protect them throughout the healing process. Lastly, the surgeon sutures your gums closed, and you're sent home to recover.
Dental Implant Osseointegration & Abutment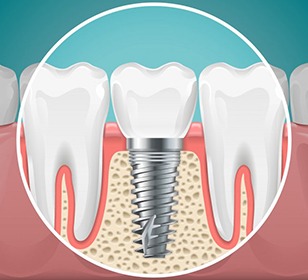 Next comes osseointegration, the process of the biocompatible implant posts encouraging your jawbone to grow around them. While osseointegration is the reason why dental implants are so successful, it can take four to six months to complete.
When your implants are fully fused to your jaw, you'll most likely undergo a smaller oral surgery. This time, small metal fixtures called abutments are installed on top of the implant posts to hold your replacement teeth in place. It typically takes about two weeks to recover from abutment surgery.
Delivery of Dental Implant Restoration(s)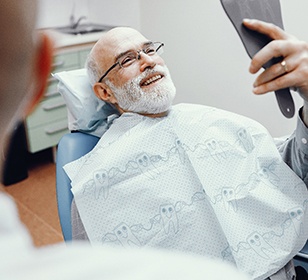 At long last, it's time to receive your brand-new teeth! Once your custom dental crown, bridge, or denture arrives from the dental lab, you'll return to our office to have Dr. Rakowsky place it onto your abutments. Your implant dentist in Doylestown will make sure your bite looks and feels good before sending you out into the world to enjoy your complete smile!
Benefits of Dental Implants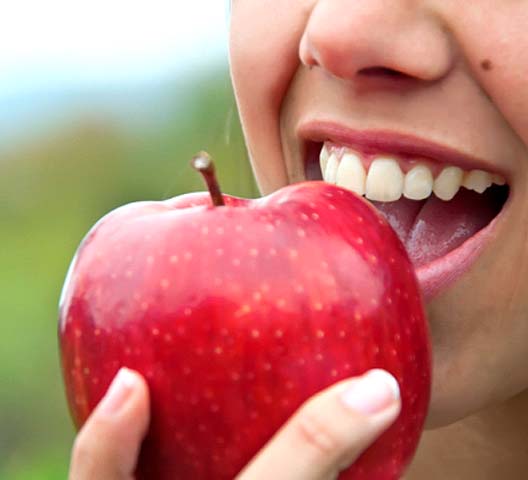 The reason Dr. Rakowsky recommends dental implants to all of his patients with missing teeth is because they offer advantages that you just can't get with other treatments, including:
A smile that never slips or loosens: Unlike traditional bridges and dentures, implants get their stability from your jawbone just like your natural teeth, so they can be trusted to remain secure and never slide out of place during speaking and eating.
Natural, seamlessly lifelike results: The roots of dental implants are completely hidden below the gumline, and just the porcelain restoration on top can be seen. This is why dental implants are the most lifelike dental prosthetic available today.
Prevent jawbone loss and preserve your youthful appearance: Bone loss in the jaw is common after tooth loss, but dental implants can stop and reverse this process, helping a patient maintain a more youthful facial appearance.
A long-lasting tooth replacement you can count on: Dental implants have an impressive 30+ year lifespan, and they only require normal brushing and flossing to keep looking and functioning like new.
Are Dental Implants Right for You?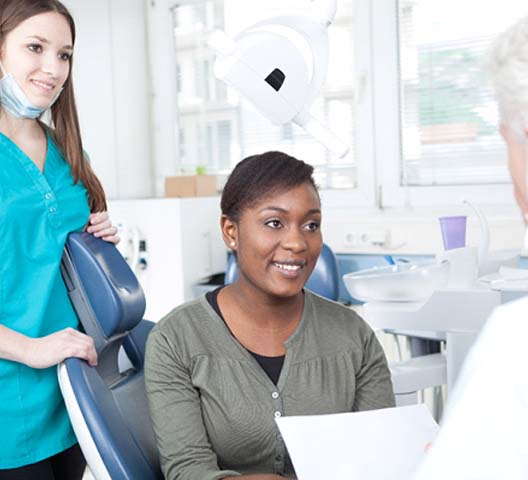 To be a good candidate for dental implants, you need to meet just two requirements: you must have decent oral health, and your jawbone must be strong enough to support the new roots. Once these have been confirmed with an exam, Dr. Rakowsky can help a patient determine which type of implant procedure would be right for them depending on how many teeth they are missing.
Missing 1 Tooth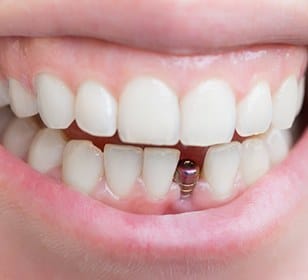 Bringing back a single tooth with a dental implant is relatively simple. A titanium root is placed between two healthy teeth, and this is topped with a porcelain crown. Unlike with a bridge, this approach doesn't require the nearby teeth to be reshaped to make room for the prosthetic.
Missing Multiple Teeth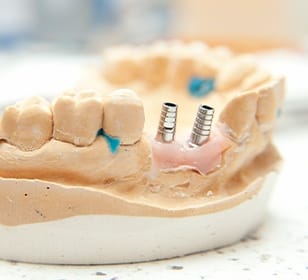 You don't have to get an individual implant for each missing tooth. Instead, just one or two can be used to secure a bridge or partial denture to the jawbone that restores several teeth at once. These prosthetics are much more secure and long-lasting compared to their removable counterparts.
Missing All Teeth
Even total tooth loss can be completely reversed with dental implants. Four to six posts can be placed along the jawbone that serve as the foundation for a full denture. Implant dentures are smaller and more comfortable compared to regular ones, but they also allow a patient to recover much more bite strength.
Understanding the Cost of Dental Implants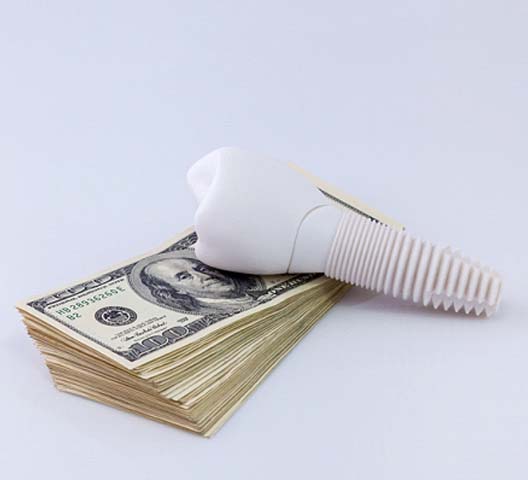 One of the best parts about dental implants is their longevity. They're able to last multiple times longer compared to traditional bridges and dentures while providing higher quality results, making them one of the best investments in all of dentistry. The cost of your implant procedure will be based on a few factors, including how many posts are needed, where they are located within the mouth, and what kind of restoration is used. We'll go over all pricing information at your consultation so you'll know exactly what to expect, and we can also help you sign up for financing to make the treatment easily affordable.
Types of Dental Implants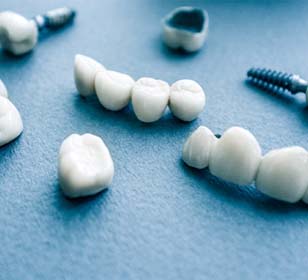 First of all, what exactly are you looking to accomplish with this treatment? Are you only looking to replace a single missing tooth? In that case, you'll only need one implant along with a crown. On the other hand, if multiple teeth are missing, you may need a bridge or even dentures supported by an appropriate number of implant posts. Beyond, there are a couple of different materials used to make implants, various manufacturers, and a number of different placement techniques. All of these variables will influence the final cost of dental implants in Doylestown. We'll discuss these details with you during your consultation so that you understand what needs to happen as well as what your options are.
The Stages of Dental Implant Treatment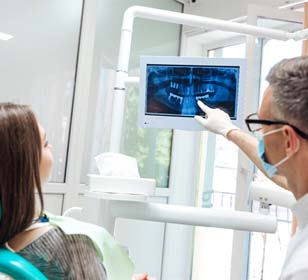 The dental implant process is divided into a number of stages, and each one carries a separate cost. You'll need to plan your payments accordingly. Typically, after the consultation, we'll schedule any necessary preliminary work such as bone grafts or extractions. Once those steps are complete, implant surgery can begin. It will take a few months for your mouth to heal after the procedure, as which point a small piece called an abutment will be attached to the implant. The final step is to place a crown, bridge, or denture on top of said abutment.
Are Dental Implants Worth the Investment?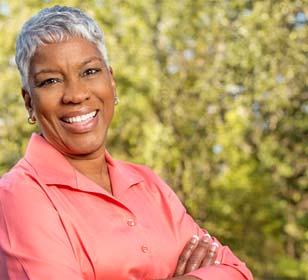 In one word, yes! Unlike other types of tooth replacement, dental implants can last for entire lifetimes, meaning you won't have to pay for new ones every few years. This alone gives them greater value in the long term. There are also many benefits that you can only enjoy with dental implants, such as having new teeth that are strong and sturdy enough to chew practically any kind of food. The stimulation that implants provide also keeps the jawbone healthy, letting you avoid the complications that bone loss can bring.
Does My Dental Insurance Cover Dental Implants?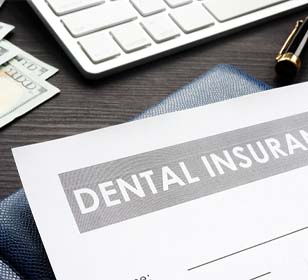 While many companies consider implants to be a cosmetic treatment and thus won't pay for them, more and more companies are starting to offer coverage for the treatment. Many policies can also help pay for preparatory work or the final restoration. Check the specifics of your own plan to see what is offered and how you can use your benefits to cut down on your personal costs.
Dental Implant FAQs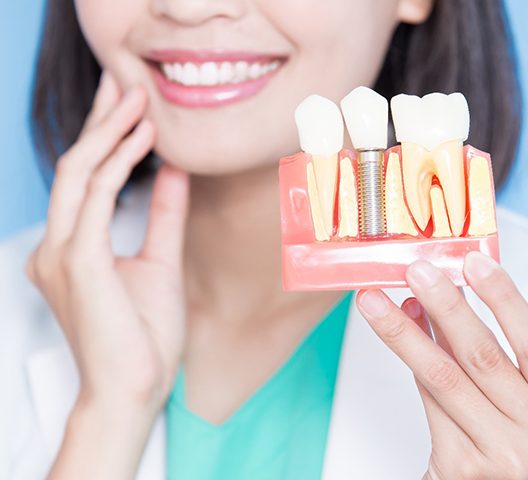 If you have missing teeth, you know from experience how much it can affect your appearance and overall quality of life. Well, dental implants are an excellent solution that can help you enjoy a complete and fully functioning smile once again. Since the process is one-of-a-kind, it's completely normal to have a few concerns before committing to it. For your convenience, we've decided to answer some frequently asked questions we receive from patients below. If you don't see your specific, feel free to reach out!
How Long Do Dental Implants Last?
Most patients can expect their dental implants to last well over three decades. Of course, the exact lifespan will vary significantly from person to person based on many factors, such as oral health and lifestyle. That said, here are some steps you can take to help your new smile last as long as possible:
Practice good oral hygiene (i.e., brush twice a day, floss daily, rinse daily with an ADA-approved mouthwash)
Visit your dentist every six months for a checkup and cleaning
Avoid chewing hard or tough foods
Does Getting Dental Implants Hurt?
Before the procedure begins, Dr. Rakowsky will numb your mouth with a local anesthetic to ensure you're comfortable. In most cases, dental sedation will be administered to help lower your body's ability to register pain. While the surgery itself shouldn't be painful, you can expect your mouth to feel sore for the first few days following the procedure. Luckily, you can easily manage your discomfort by taking prescribed or over-the-counter pain medication as directed and using cold compresses. If your pain worsens after a few days, don't hesitate to give our office a call for assistance.
How Long Does It Take to Recover from Dental Implant Surgery?
Many people can resume their usual activities the day after oral surgery. However, you must get as much rest as possible and avoid strenuous exercise for the first week or so as it could negatively affect the healing process. Any bleeding and swelling you experience should gradually improve after the first couple of days. You can promote faster healing by diligently following the aftercare instructions you were given. Keep in mind that it may take up to six months for your implants to successfully fuse with the jawbone via osseointegration.
Can I Get Dental Implants If I'm Diabetic?
Yes, as long as your diabetes is under control! Uncontrolled diabetes and chronic high blood pressure can delay healing, making it more difficult for your implants to integrate with the jawbone. Therefore, if you're diabetic and interested in getting implants, you need to talk to your doctor about getting your blood sugar levels under control beforehand.