Cosmetic Dentistry – Doylestown, PA
A Beautiful Smile Made
Just For You
Whether you have a single chipped tooth or are unhappy with your entire smile, cosmetic dentistry can quickly and easily give you a set of teeth that lights up any room you enter. Dr. Rakowsky can combine the treatments outlined below with his personal, artistic touch to create a bigger, brighter, and straighter grin that you're always eager to show off. The smile you've always wanted is much closer than you might think—contact us today to schedule a one-on-one consultation to discuss cosmetic dentistry in Doylestown, PA.
Why Choose Terry Rakowsky DMD for Cosmetic Dentistry?
Graduate of U Penn, Las Vegas Institute, & Pankey Institute
30+ Years of Experience Serving Doylestown
Down-to-Earth & Friendly Dentistry
Porcelain Veneers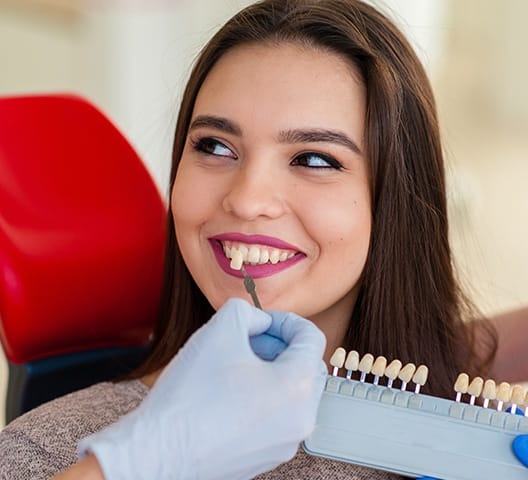 With veneers, we can eliminate flaws such as stains, chips, cracks, gaps, and even slightly crooked teeth with just one procedure. It involves placing thin porcelain coverings over the front of the teeth to give them a more uniform and attractive appearance, and at our dental office, they are always custom-made for each patient. In just two appointments, you can finally fix that problem tooth or completely transform your smile with a dramatic makeover!
Metal-Free Dental Crowns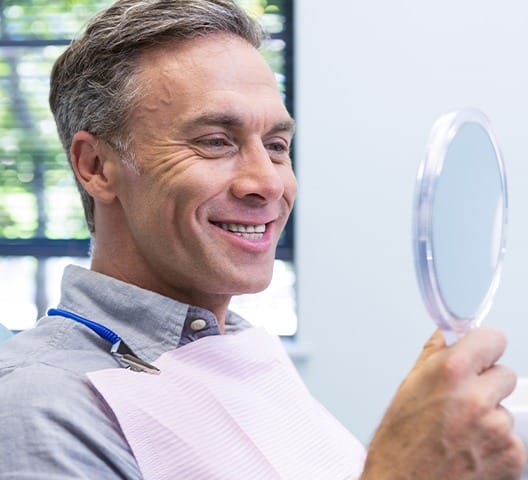 For a long time, dental crowns used to repair severely broken or decayed teeth were made of silver or gold, so while they certainly made a tooth strong, they didn't exactly help with the smile's appearance! Thankfully, we can now provide crowns that are 100% white ceramic, giving them a lifelike appearance that blends seamlessly with the rest of a patient's teeth. In addition to restoring chips and cracks, we can also use these crowns to enhance worn down or misshapen teeth to create a more eye-catching smile.
Cosmetic Dental Bonding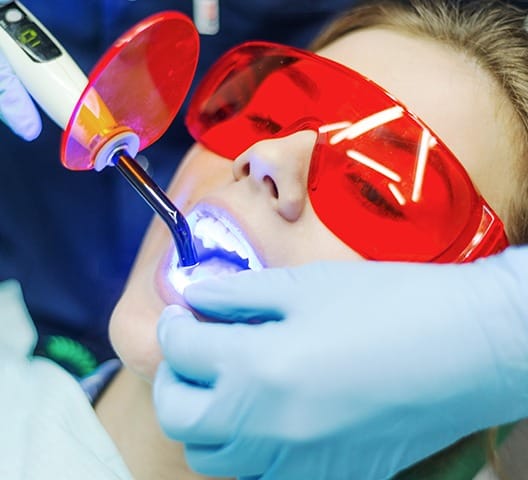 For minor chips, stains, and gaps, nothing gets rid of them quicker than cosmetic bonding. Dr. Rakowsky simply applies a color-matched composite resin to the tooth in question and literally sculpts it to make the imperfection disappear. Once a patient approves the final look, the material is hardened into place. From beginning to end, the entire process takes about an hour, but the beautiful results can easily last for about 10 years.
Teeth Whitening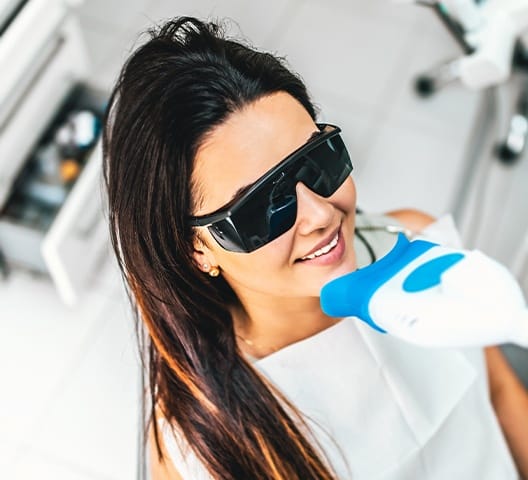 Want a whiter smile right NOW? If so, you won't find what you need at the store. Opalescence BOOST is an in-office treatment we can use to brighten your smile by up to eight shades in a single appointment, all without causing the sensitivity common with other whitening methods. Or, if you would prefer to complete the process on your own schedule, we can send you home with an Opalescence GO kit, which will contain mouth trays and a bleaching gel that's multiple times stronger than anything you can buy on your own. You'll see results after the first use with the lightest shade appearing after about 10-14 days.
Learn More About Teeth Whitening
Frequently Asked Questions - Cosmetic Dentistry
If you're ready to love the smile you see in the mirror, your cosmetic dentist can help. We understand it's a big decision, and you're certain to have plenty of concerns. There isn't any reason to worry. We'll explain everything during your initial consultation. While you wait for your visit, here are the answers to a few of the most common questions patients ask us.
What is the first step for cosmetic dentistry?
Your first step to a beautiful smile is to schedule your consultation with Dr. Rakowsky to discuss your options. He will evaluate your teeth and learn more about your goals to create a personalized treatment plan.
Is everyone a candidate for cosmetic dentistry?
If you have aesthetic flaws, like discoloration, chips, or gaps, you might be a candidate for cosmetic dentistry. If you have any untreated oral health issues, such as tooth decay or gum disease, they will need to be addressed before moving forward with any elective procedure. If they aren't resolved, cosmetic dentistry will only cover them up, which can cause them to turn into a big problem down the road.
Is cosmetic dentistry covered by insurance?
It is rare for dental insurance to cover cosmetic dentistry because the procedures are considered elective; however, there are some exceptions. Some cosmetic procedures also offer restorative benefits, like all-ceramic crowns. If a treatment is necessary for your oral health, your insurance may cover a portion of the cost. If applicable, we will work on your behalf with your dental insurance to file the necessary claim forms to offset the amount you need to pay out-of-pocket. If there's any remaining balance, our office accepts a variety of payment options. Besides traditional methods, as also work with third-party financing. We will help you find the solutions you need to invest in a beautiful smile without draining your wallet.
Can cosmetic dentistry improve the health of my smile?
There are certain cosmetic procedures that can improve the health of your smile, like correcting bite and alignment concerns. Moving your teeth into their ideal positions makes them easier to keep clean, decreasing your risk of cavities and gum disease. All-ceramic crowns and direct bonding can also be used to repair damaged teeth, restoring their health, function, and appearance. When creating a treatment plan, your cosmetic dentist considers both the health and aesthetics of your teeth to ensure a healthy, beautiful smile.
What can I do to keep my smile bright and healthy from home?
You can ensure your smile stays bright by committing to your oral hygiene at home. Brush your teeth at least twice a day and floss daily. It's also best to avoid anything that can lead to stains, like darkly pigmented foods and drinks. If you can't skip your morning cup of coffee, drink it through a straw or rinse your mouth with water once you've finished it. If you smoke or use tobacco, it's best to kick the habit quickly. Don't forget to visit your dentist at least twice a year for a cleaning and checkup.