Orthodontics/Braces – Doylestown, PA
A Straighter Smile
without the Metal
Millions of adults would love to straighten their teeth, but there's just one problem—they can't imagine going to work or facing the world with a mouthful of metal braces. Thankfully, Dr. Rakwosky offers a more image-friendly treatment in the form of Invisalign. Designed just for adults and older teens, this discreet solution can fix crooked, crowded, and gapped teeth without someone having to sacrifice their daily appearance in the process. To learn more and see if Invisalign and other options for orthodontics or braces in Doylestown, PA would be a good fit for you, contact us today.
Why Choose Terry Rakowsky DMD for Orthodontics/Braces?
30+ Years of Experience Serving Doylestown
Graduate of U Penn, LVI, & Pankey Institute
Personalized Treatment Plans for Each Patient
Invisalign® Clear Braces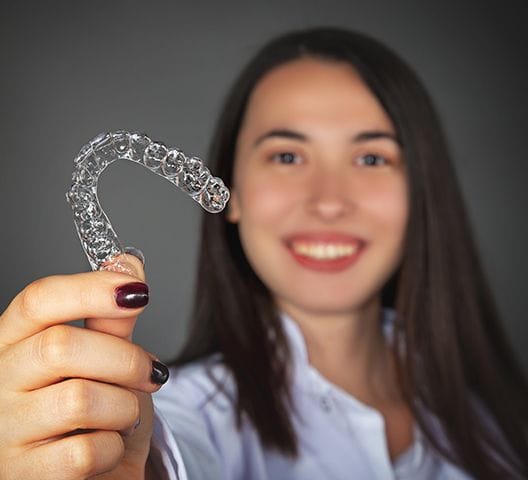 Invisalign uses a series of clear plastic aligner trays to shift the teeth instead of metal brackets and wires. They are completely transparent, extremely thin, and virtually disappear when worn. With Invisalign, your friends and coworkers will never notice you're undergoing a treatment. Invisalign is removable as well, meaning you can take your trays out for meals or when you brush your teeth, so you won't have to alter your daily habits simply to enhance your smile.
In-House Clear Retainers
After finishing the orthodontic process, you're not completely done with treatment! Next, you'll begin the final, incredibly important step of maintaining your results. Once you've spent time and money to achieve the aligned smile you've always wanted, you must wear a retainer. At Terry F. Rakowsky Family & Cosmetic Dentistry, we offer clear, comfortable retainers that are created entirely in-house. Once your smile is straight and in position, Dr. Rakowsky will take images and impressions of your teeth, which are used to make your retainer. The best part is that it looks similar to Invisalign – almost invisible when being worn so you won't have to worry about noticeable brackets or wires.