Invisalign – Doylestown, PA
Straighten Your Smile Without the Hassle
In the past, fixing orthodontic issues meant needing to have noticeable and uncomfortable metal brackets and wires affixed in your mouth. These downsides have kept many people from receiving the treatment they require to improve their oral health and enhance the appearance of their smile. At Dr. Terry F. Rakowsky Family & Cosmetic Dentistry, our team offers a modern, discreet, and comfortable alternative to metal braces, called Invisalign in Doylestown. Read on to learn more about the treatment and whether you're a good candidate.
Why Choose Dr. Terry Rakowsky for Invisalign?
Dentist with Over 35 Years of Experience
Locally Owned & Operated Dental Practice
Comprehensive Dental Care Under 1 Roof
How Does Invisalign Work?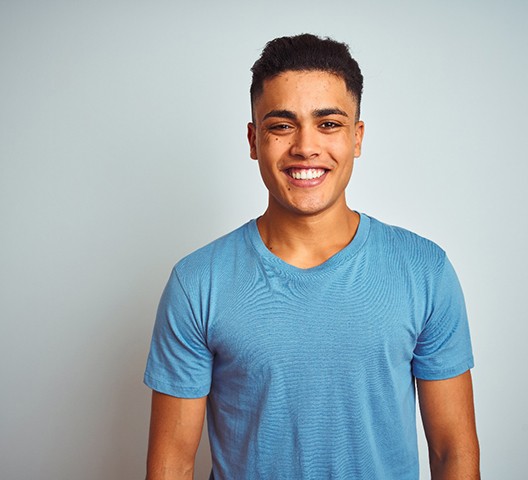 Instead of utilizing metal brackets and wires, Invisalign treatment uses custom-fitted plastic trays, similar to retainers, to gently and strategically shift your teeth into their ideal positions. Every two weeks, you'll advance to your next series of aligners in your treatment, until you eventually complete the process and achieve your ideal results. Every six to eight weeks, depending on what we determine is best at your initial consultation, you'll come in for a quick progress check and to pick up your next series of aligners in your treatment.
Indications for Invisalign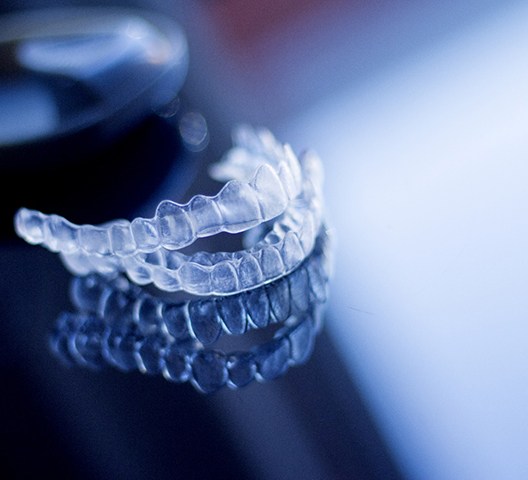 Many patients are surprised to learn that Invisalign treatment is a great solution for a wide variety of orthodontic issues, including some of the following that we've listed below.
Crowded Teeth
Crowded teeth can increase your risk of plaque, tartar, and harmful bacteria accumulation in your mouth. By aligning them with Invisalign trays, you'll be able to prevent common oral health problems like cavities from occurring.
Gaps Between Teeth
If you're not a fan of having unevenly spaced teeth, and your orthodontic issue has begun to affect your self-confidence or oral health, Invisalign trays can close the gaps between your teeth, making your smile more symmetrical and even.
Bite Misalignment
Whether you have overbite, crossbite, or underbite, Invisalign trays can act to align your jaws and disperse bite force evenly across your mouth, preventing you from developing other conditions, like TMJ dysfunction and bruxism.
The Benefits of Invisalign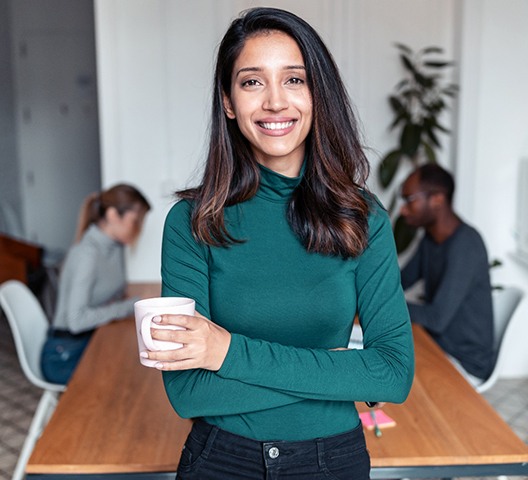 Invisalign is one of the most popular orthodontic treatments among patients because of the variety of benefits that it offers, as opposed to traditional metal braces. Some of the advantages that you'll be able to enjoy include:
Discreet, clear aligners
Better oral health while undergoing treatment
Eat all of the foods that you love
Easy to clean and maintain the aligners
Conveniently removable
Shorter average treatment time
More comfortable than metal braces
How Much Does Invisalign Cost?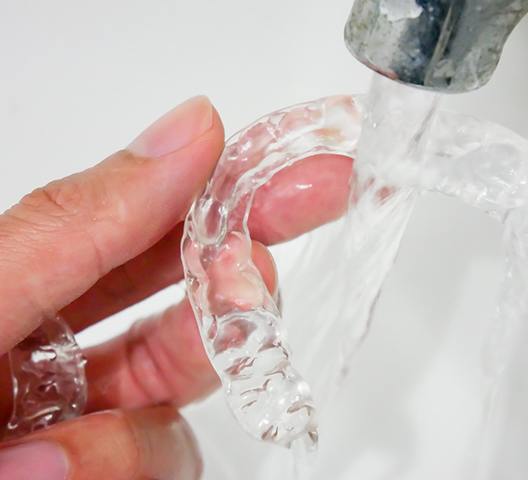 The cost of your Invisalign treatment depends on a variety of factors, including the severity of your orthodontic problems, how many aligners you'll need to achieve your ideal results, and other details that your dentist in Doylestown will determine during your initial consultation. To learn the cost of your unique Invisalign treatment, schedule a consultation with our office today!
In-House Clear Retainers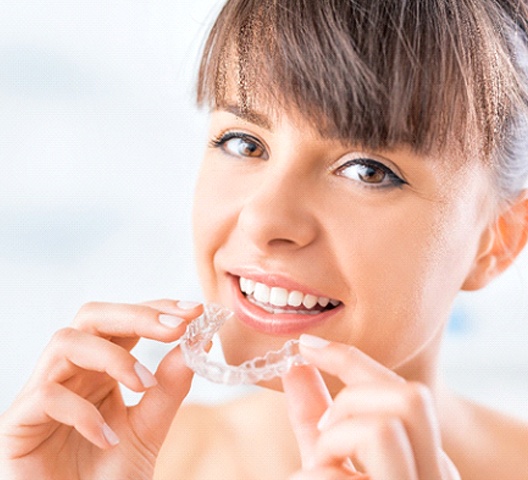 One of the many benefits of Invisalign is that the aligners are completely clear and comfortable. Once your treatment is done, you won't want to switch to retainers that have noticeable brackets and wires. Instead, Dr. Rakowsky provides clear retainers that are created entirely in-house. They look, feel, and function just like Invisalign, however they are designed to protect your results. After investing your time and money in your Invisalign treatment, the last thing you want is to see your teeth drift out of place. That's why Dr. Rakowsky's clear retainers are the perfect solution – they are personalized, effective, and more affordable than other options.
Invisalign FAQs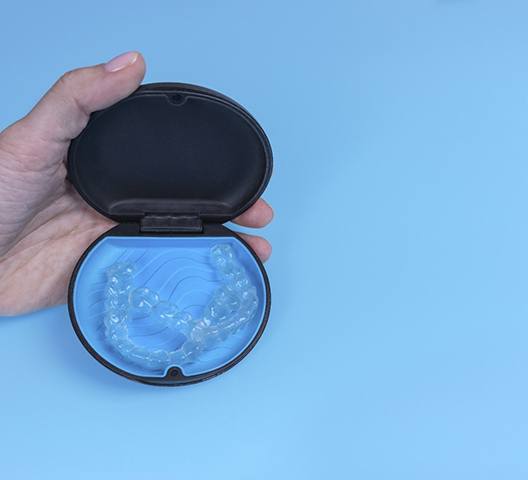 With Invisalign, you don't need to put up with a mouthful of metal brackets and wires in order to achieve a straighter smile. However, you may still have some unanswered questions about Invisalign, so we we're here to help. Here are the answers to some of the most common questions we receive about Invisalign in Doylestown. If you don't see the information that you're looking for below, give us a call. We'd be happy to answer your questions and get you started with an initial consultation.
What Does Invisalign Look Like?
Invisalign is made from clear plastic, so the aligners are visible when outside of the mouth, but very difficult to detect once being worn. With proper maintenance, you can keep your aligners clear, clean, and discreet. Ultimately, you are able to achieve a straighter smile without compromising your appearance. In some cases, patients may require attachments, buttons, or elastics that help during the alignment process. These items aren't made of clear plastic, so they can sometimes be more visible than the rest of your aligners.
Does Invisalign Hurt?
Invisalign isn't a painful treatment. Its smooth plastic design makes it one of the most comfortable options out there. When you first get your Invisalign, there is an adjustment period when you will likely experience slight soreness or discomfort, but this will go away as you get used to the treatment. Invisalign works by gradually shifting your teeth into proper alignment, so you may experience a small amount of pressure, but this is how you know that your treatment is working. To help with this adjustment, you can take an over-the-counter pain reliever and/or use a cold compress.
Can You Eat with Invisalign?
One of the main advantages of Invisalign is that it is completely removeable, therefore allowing you to take your aligners out when it's time to eat. Eating while wearing your Invisalign can cause cracks and stains, and it puts unnecessary pressure on your teeth. The only thing that you should be consuming while wearing your aligners is water.
Can You Get Invisalign After Braces?
This all depends on your specific needs. Braces are better able to correct more severe overbites, underbites, and crossbites that Invisalign cannot. If your teeth have grown crooked or misaligned years after you completed treatment with braces, Invisalign can usually help with this problem and align your smile. To find out for sure if Invisalign is a good option for you, see us for your initial consultation.