Implant Dentures – Doylestown, PA
Replacement Teeth That
Stay Securely in Place
When you first got your denture, you were ecstatic that you could smile confidently again. Over time, though, your denture started losing its fit and slipping out of place. You had trouble eating certain foods, saying certain words, and even just smiling for fear of your denture creating embarrassing moments.
If this sounds like you, Dr. Terry Rakowsky and the rest of our team can help! By securing a full denture onto a small number of dental implants, you can enjoy replacement teeth that stay securely in place. Not only do implant dentures look and feel like real teeth, but they can also last a lifetime with the right care. Contact our dental office today to learn more about how implant dentures in Doylestown can give you back your smile!
Why Choose Terry Rakowsky DMD for Implant Dentures?
Doylestown Dentist with 30+ Years of Experience
Partnered with Dental Implant Specialists to Deliver the Best Possible Care
Friendly Dental Service Built on Trusting Relationships
What Are Implant Dentures?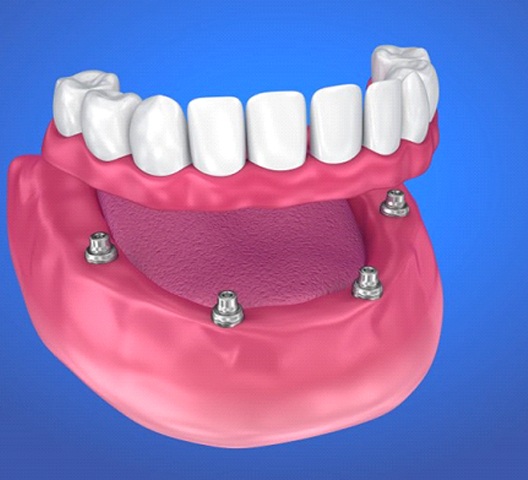 Implant dentures are designed to seamlessly recreate the appearance and function of your natural teeth. A full or partial denture can be secured onto a small number of dental implants that have been placed directly in your jawbone.
Depending on your specific preferences and needs, Dr. Rakowsky will suggest one of the two types of implant dentures.
Fixed/Permanent Implant Dentures
Once this prosthesis has been placed, it can only be removed by an implant dentist in Doylestown. As a result, you can brush and floss just like you would with real teeth. A fixed implant denture typically requires the placement of four to six dental implants.
Removable Implant Dentures
If you're already used to the routine of taking out your denture to clean it, we can also provide a removable implant denture. This type of denture usually requires fewer implants for support – between two and five on average.
The Implant Denture Process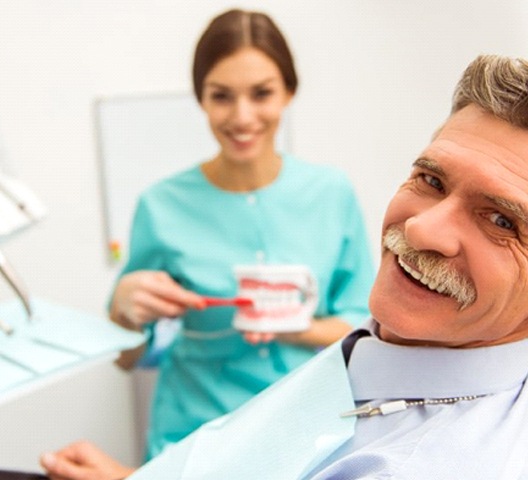 Getting an implant denture involves a multi-step process, but trust us when we say the end results are worth the wait! First, you'll attend a consultation with Dr. Rakowsky. He'll determine whether you need any preliminary treatments, like bone grafting or tooth extractions, before your implants can be placed. Next, we'll refer you to a trusted oral surgeon to have your implant posts inserted into your jaw. Over the next four to six months, the posts merge with your jawbone to create a strong foundation. When this process of osseointegration is complete, we can secure your customized denture, completing your smile.
Am I a Candidate for Implant Dentures?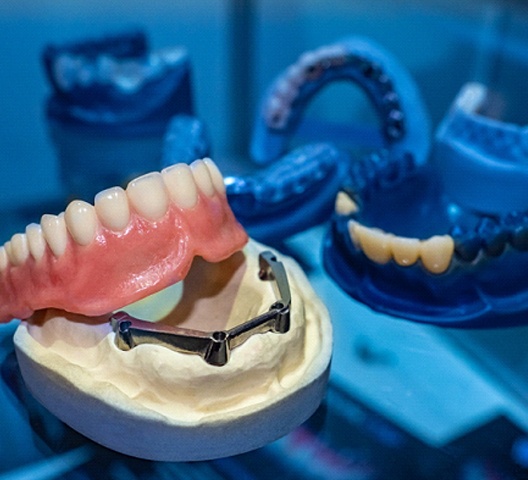 As long as you're a generally healthy adult, chances are you're eligible for dental implants in Doylestown. You should have ample jawbone mass to support the implant posts, but if you don't currently, then a bone graft should be able to fix that. You'll also need to have healthy gums and be dedicated to maintaining good oral health after your procedure to ensure your new teeth remain in good condition. Lastly, you should be free of any medical conditions that could complicate oral surgery.
Benefits of Combining Dentures & Dental Implants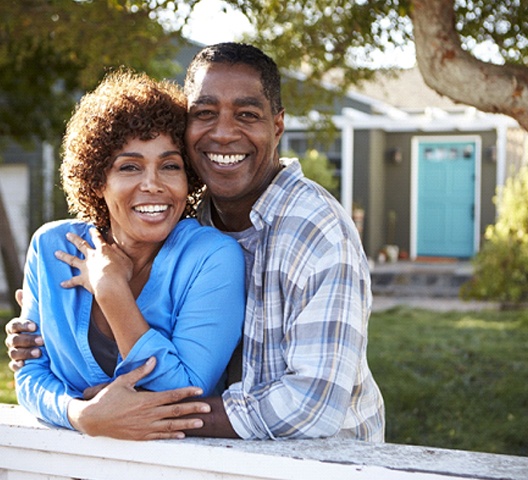 Compared to conventional dentures, implant dentures truly go above and beyond. Some of the benefits of implant dentures that you can expect include:
Prevention of jawbone loss, which keeps you looking young.
Enhanced chewing power, allowing you to maintain a nutritious diet.
Boosted confidence in your smile.
Replacement teeth that feel natural.
A prosthetic that can last for 30+ years, maybe even a lifetime, if you take good care of it.