Veneers – Doylestown, PA
Fully Transform Your Smile
Veneers were first invented by a California dentist in 1928 to be used in a film shoot. Since then, the treatment has gone on to help all kinds of people – not just Hollywood actors – fix the flaws with their smiles so that they can feel confident about their appearance. Does it feel like multiple imperfections are putting your dream smile out of reach? Contact Dr. Rakowsky to set up a consultation where you can discuss the advantages of veneers!
Why Choose Terry Rakowsky DMD for Veneers?
Over 30 Years of Improving Smiles in Doylestown
A Down-to-Earth, Friendly Dental Team
Long-Lasting, Stain Resistant Porcelain Restorations
What are Veneers?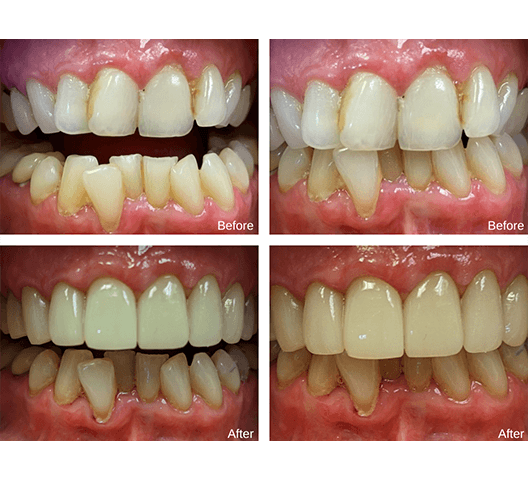 Veneers are different from crowns; instead of covering the entire tooth, they are designed only to sit flush on the front surface. They are made using porcelain, a highly stain-resistant material that closely resembles natural enamel. Individual veneers are very thin sheaths that are usually attached to teeth after removing a very small amount of dental structure. Some people might only get enough veneers to cover very specific teeth, but there are cases where they can be used to correct every tooth that's visible when you smile. We can personalize each veneer so that it looks as natural as possible inside your mouth.
What Can Veneers Correct?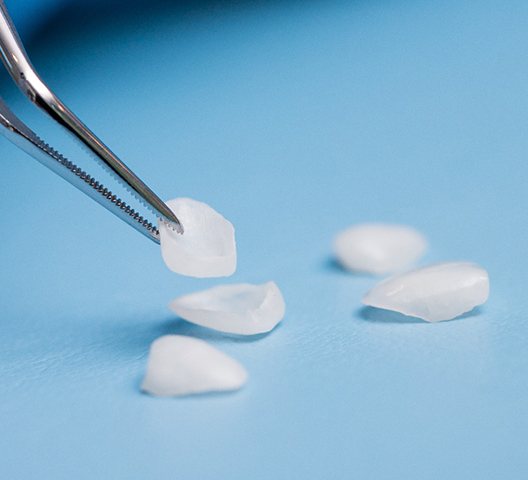 Veneers can be used to correct a variety of cosmetic issues. The big advantage is that they can hide multiple imperfections at once, meaning you don't have to have multiple cosmetic treatments done. Some of the most common flaws that can be corrected by veneers include:
Minor cracks, chips, and breaks that don't threaten the structure of the tooth or expose it to infection.
Stains and other forms of discoloration that are unresponsive to whitening treatments.
Certain cases of crooked or unevenly spaced teeth.
What is the Process Like?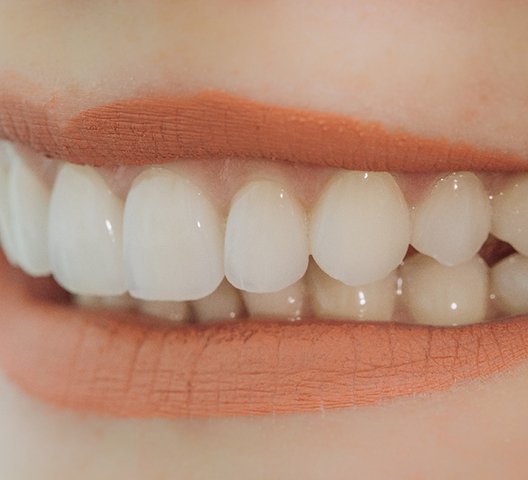 Once you've settled on veneers as a cosmetic solution, the process can be completed in as little as two visits. During the first, we'll have to make room in your mouth for your future restorations by shaving off a minimal amount of enamel. Once the mouth has been properly prepared, we can take an impression to be sent to a dental lab where an expert will make your veneers by hand. It can take a few weeks for the lab to send the final restorations back, so in the meantime we can provide temporary veneers to protect your teeth.
Benefits of Veneers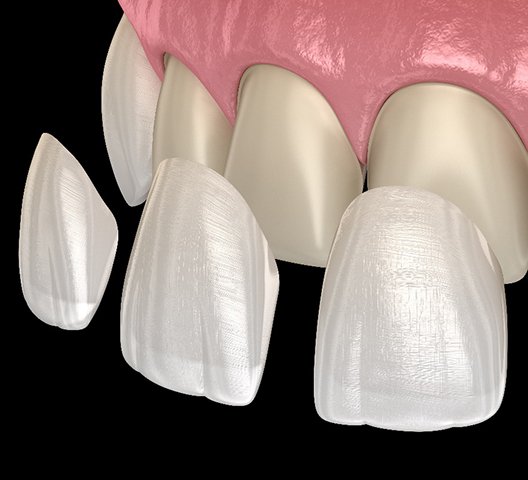 Since veneers only require two appointments, they can be considered a quick way to upgrade your smile.
You can avoid the need for additional cosmetic treatments since veneers address all of your smile's imperfections at once.
Porcelain is nonporous. This is significant because tooth stains usually occur when particles slip underneath the enamel.
Veneers are highly durable. They can last for around 10 to 15 years on average as long as you take good care of them.
You can still brush and floss the way you normally would before veneers.
Temporary Veneers
Made of thin acrylic and cemented to your teeth, temporary veneers are put into place by Dr. Rakowsky so that your altered teeth will remain better protected between appointments. During this time, you'll get to see what your smile will look like once your permanent veneers are put into place. Before they're bonded to your teeth, we will shape and sculpt them to ensure you are pleased with the way they look, allowing you to start building your confidence in your new and improved smile.
Understanding the Cost of Veneers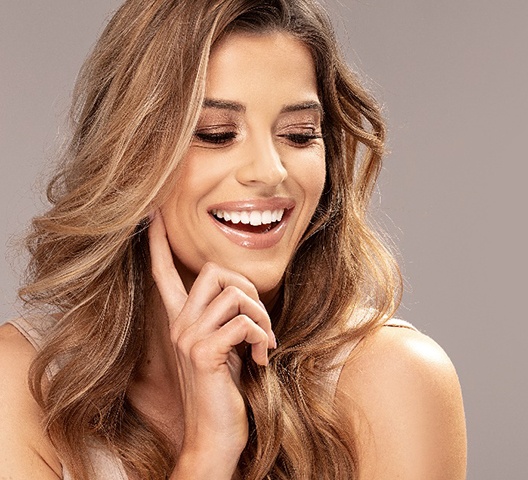 Are you unhappy with your smile and are considering enhancing your pearly whites with cosmetic dentistry? While there are various options for improving your teeth, you may be leaning more toward veneers for their comprehensive results. However, it's important to know what to expect from the overall cost of the treatment before committing to anything. You'll also want to explore your other options to determine which cosmetic procedure would be best for your situation. Read on to learn more about the cost of veneers in Doylestown!
Cost VS Cosmetic Dentistry: What's Best for Me?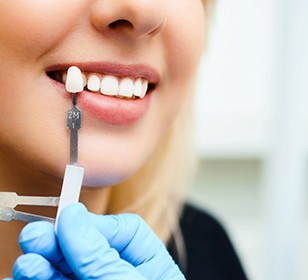 Veneers provide one of the most cost-effective and all-inclusive results for enhancing your smile, and it's easy to see why. That said, you should consider all of your options before deciding, including the kinds of changes you wish to make as well as the price points that work within your budget. Here are a few of the common cosmetic treatments we offer and what to expect from them:
Teeth whitening – Have your pearly whites begun to discolor over the years? If you want to brighten them, you can undergo professional teeth whitening for quick and effective results. With either an in-office or at-home procedure, you can be sure to show off a lighter smile for several months to a couple of years. This option won't affect the size, shape, or position of your teeth.
Invisalign – If you're struggling with crooked or misaligned teeth, Invisalign can offer the quickest and most discreet method to correct the issue. You won't have to worry about wearing metal brackets and wires to create a perfectly straight smile. However, this treatment does come with a high initial cost, and it won't affect the size, shape, or color of your pearly whites.
Dental bonding – Are you struggling with minor imperfections in your teeth, like chips, cracks, stains, and gaps? We can easily address these dental flaws with composite resin to create your ideal smile. While this approach is more affordable, the results will only last several years before needing touch-ups, whereas veneers can last 15 years or more with proper care.
Veneers – This cosmetic treatment effectively conceals one or multiple imperfections simultaneously, and it usually takes a couple of weeks to complete. Although it comes with a higher initial value, the results can provide the comprehensive solution you need to form the dream smile you've always wanted!
How to Make Veneers Affordable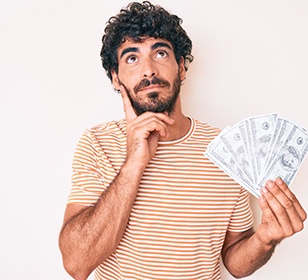 Cosmetic dental services aren't typically covered by dental insurance, so you may not receive coverage for veneers. This is because they aren't considered "essential" for medical care. However, this isn't the only option for making your treatment more manageable. Our team is happy to offer plans through CareCredit—a third-party financier that can help divide the overall cost of your procedures into monthly installments. Many of their policies also come with little to zero interest, meaning you can save more money while enhancing your pearly whites.
Veneers FAQs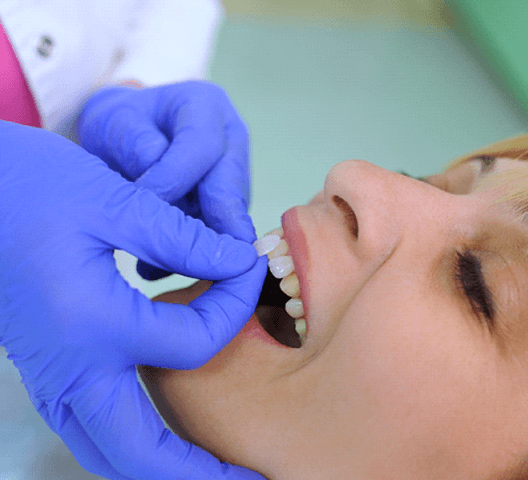 You're definitely interested in a major smile upgrade with veneers in Doylestown, but you still have some questions about this cosmetic treatment. That makes sense because it's a significant decision that cannot be made lightly. Fortunately, we're here to erase any doubts from your mind so you can confidently move forward with the process. We've compiled a list of responses to common questions patients ask us about veneers. If you don't see your question on the list below, we encourage you to contact our team!
Are Veneers Permanent?
Since veneers eventually require replacement, they're not considered permanent. However, the process of getting them is irreversible. In preparation, our cosmetic dentist in Doylestown will remove a thin layer of enamel to ensure successful treatment. But unlike hair and nails, the enamel will never grow back. That's why when teeth are prepared this way, they will always need to be covered with veneers or crowns.
What Can I Eat with Veneers?
At the end of your initial visit with Dr. Rakowsky, you'll receive temporary veneers to protect your prepared teeth while you wait for your permanent ones to be made. During this period, you'll need to avoid hard foods like ice, raw fruits and vegetables, or candy because they can damage your temporary restorations. The good news is once your permanent veneers are in place, you won't need to be quite as cautious anymore. However, it's still a good idea to be careful when eating sticky, dark-colored, crunchy, hot, or cold foods and drinks. Plus, you'll want to drink alcohol sparingly because it can weaken the bonding material holding your restorations in place.
How Are Veneers Different Than Crowns?
While veneers only attach to the front of teeth, crowns cover an entire tooth. Veneers are primarily used for cosmetic purposes or minor shape corrections when the tooth is mostly intact. In contrast, crowns protect teeth that are worn or cracked, or they restore those that have undergone a root canal. Also, veneers are only about one millimeter thick, while crowns are usually twice as thick. Finally, veneers typically don't show a gum margin after several years like crowns often do.
How Many Veneers Will I Need?
The "right" number of veneers varies depending on each person's unique smile requirements. The goal of this treatment is for all your visible teeth to match. Many people get 6-8 veneers to create a beautiful, symmetrical smile. Others might need as many as 10-12. Also, veneers can often benefit people who only want to cover a single cracked or broken tooth.