Dentures – Doylestown, PA
Quick, Economical Way to Replace Missing Teeth
Living with an incomplete smile can make it harder to eat and speak normally. Replacing missing teeth with dentures can not only improve your appearance but also boost your oral and overall health. Best of all, dentures are typically a fast and affordable restorative solution. At the office of Dr. Terry Rakowsky, we offer high-quality, custom full and partial dentures. If you are ready to reclaim a confident, full smile, contact our office today to schedule an initial consultation for dentures in Doylestown.
Why Choose Dr. Terry Rakowsky DMD for Dentures?
Beautiful Restorations Custom-Made for Each Patient
Friendly Care Provided by Experienced Team
Serving Doylestown Since 1986
Who is a Good Candidate for Dentures?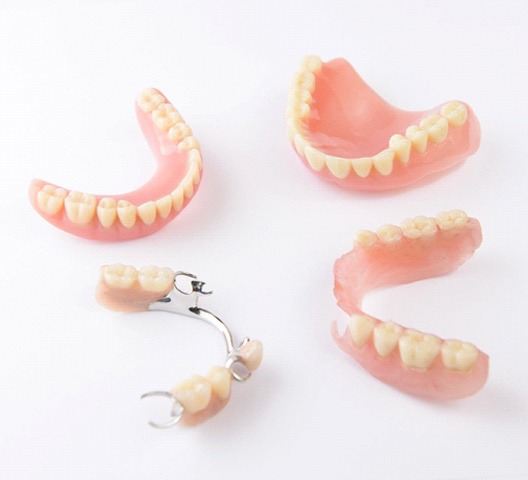 According to national consumer surveys, over 40 million Americans wear dentures. If you are missing several teeth or an entire dental arch, you are likely a good candidate for this type of dental prosthetic. During an initial consultation, Dr. Rakowsky will conduct a thorough examination to determine whether dentures are the ideal way to restore your smile. If tooth decay, gum disease, or any other untreated oral health issue is detected, Dr. Rakowsky will incorporate the appropriate care into your treatment plan.
Types of Dentures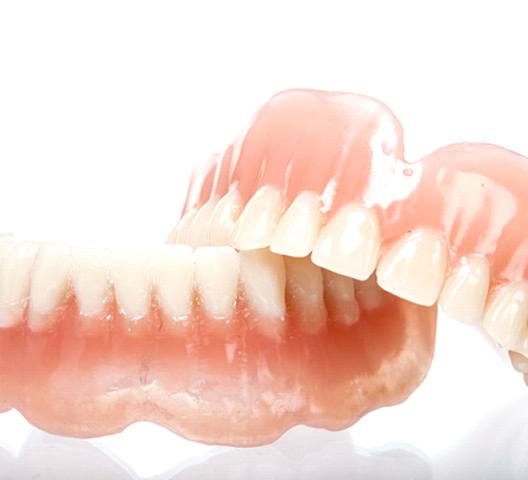 There are several types of dentures available. Depending on your unique situation, our team will recommend one of the following options:
Partial Dentures
Partial dentures, as their name suggests, replace multiple missing teeth. To remain securely in place in the mouth, partial dentures use small metal clasps to attach to nearby healthy teeth. Made up of a gum-colored plastic base and prosthetic teeth, this type of dental prosthetic replaces missing teeth and prevents remaining teeth from shifting.
Full Dentures
If you are missing an entire row of teeth, full dentures are likely an ideal option for you. Unlike partials, full dentures stay in place through natural suction, denture adhesive, or a mixture of both. If you have one or two remaining teeth in your dental arch, they will first need to be removed and your gums will need to heal before you can begin to wear full dentures.
Implant Dentures
An experienced dentist in Doylestown, Dr. Rakowsky can combine dental implants with dentures to provide a stable, long-lasting smile. Implants provide an extremely solid base for dental prosthetics by integrating directly with the jawbone. Just a few strategically placed implants can support an entire row of replacement teeth. In addition, because they replace missing teeth from the roots up, implant dentures look very natural and never shift out of position.
The Benefits of Dentures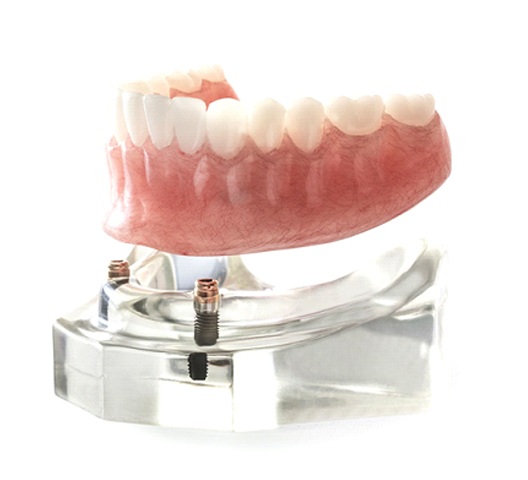 Dentures have been a popular tooth replacement solution for decades thanks to their many benefits, such as:
Restore dental function and the ability to eat most of your favorite foods
Boost physical appearance
Improve speech
Easy to remove and clean
Cost-effective solution
Custom-made for each patient
Can last for 10 years with proper care
How to Care for Dentures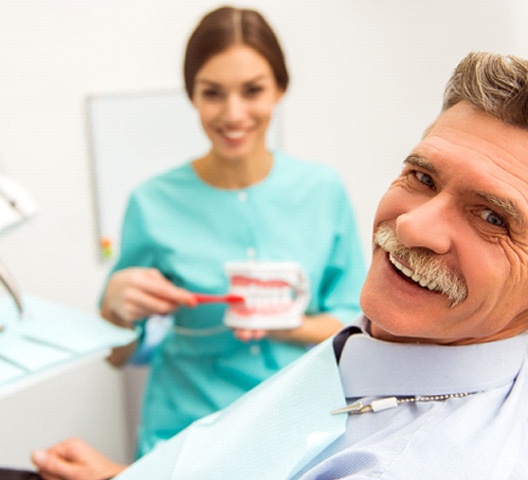 You can help extend the lifespan of your dentures in Doylestown and keep them looking great by following these recommendations:
Remove and rinse your dentures after every meal to wash away food debris
Brush your dentures at least once a day using a soft-bristled brush and nonabrasive denture cleaner
Place a towel on the bathroom counter while cleaning your dentures in case they accidentally fall
Soak your dentures overnight in room temperature water
Understanding the Cost of Dentures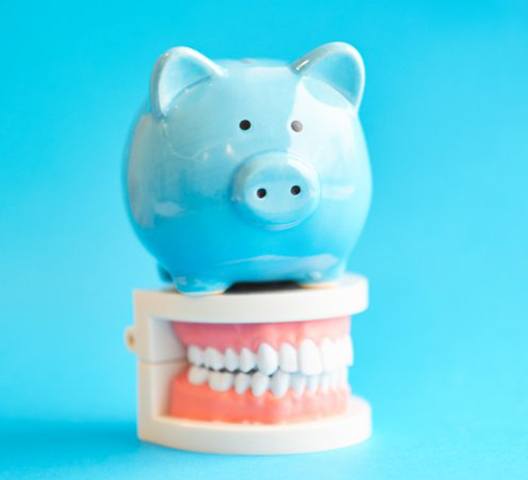 Just like fingerprints, everyone's smile is unique. That's why no two dental treatments, including dentures, are exactly alike. Furthermore, that's why there is no pre-determined cost of dentures in Doylestown. Dr. Rakowski designs each denture to meet the specific needs of the patient, and the numerous factors at play can affect the final price. Rest assured that our team will explain your costs to you and help you explore payment options, such as dental insurance.
Factors That Affect the Cost of Dentures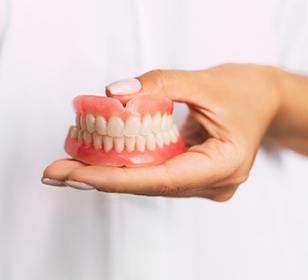 To determine how much your dentures will cost, your denture dentist in Doylestown will first need to examine your mouth, talk to you about your options, and devise a treatment plan. From there, our team can discuss the fees associated with your new teeth. Some of the variables affecting your final costs include:
Prep work – Many patients need to complete one or more preparatory treatments before getting dentures, such as gum disease therapy or tooth extractions. These procedures increase your overall treatment costs.
Number of missing teeth – Replacing an entire arch with a full denture generally costs more than filling a few gaps with a partial denture.
Materials used – Dentures can be made from various materials, some more expensive than others. However, cheaper dentures tend to be flimsier and less comfortable, so it's worth investing in a solution that lasts longer and feels more natural.
Are Implant Dentures More Expensive?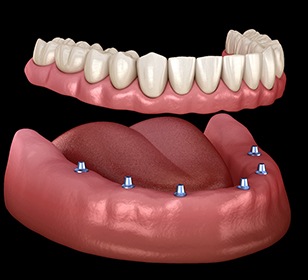 Yes, implant dentures cost more up-front than traditional prosthetics. After all, you have to pay for multiple dental implants and their surgical placement. However, implant dentures can actually save you money in the future.
While regular dentures need to be replaced every seven to 10 years, an implant denture can last for 30 years or longer with the right care. Therefore, you won't need to spend money on frequent replacements – just a higher initial cost. Implant dentures are also better for your oral health, so you can avoid large dental bills to treat these health issues. In the end, implant dentures pay for themselves many times over!
Does Dental Insurance Cover Dentures?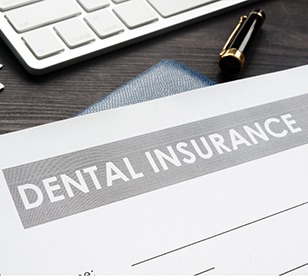 All dental insurance plans are different, but many of them will cover dentures to some extent. After you've paid your deductible for the year, your plan will typically pay for around 50% of the cost of dentures until you reach your annual maximum. Of course, this amount varies from plan to plan.
If you have dental insurance, you can count on our team to help you save. We're in-network with Delta Dental, but we'll gladly file claims and handle the paperwork for all other dental plans. All you have to do is give us your insurance information and we'll take it from there!
Other Ways to Make Dentures Affordable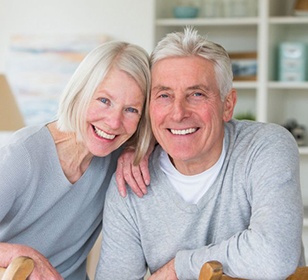 Besides dental insurance, we have other methods of providing affordable dentures in Doylestown. For example, we've helped many patients make their treatments more budget-friendly by helping them apply for a CareCredit payment plan. Qualified patients can split up their care costs into monthly installments, which usually come with extremely low or even zero interest rates!
Dentures FAQs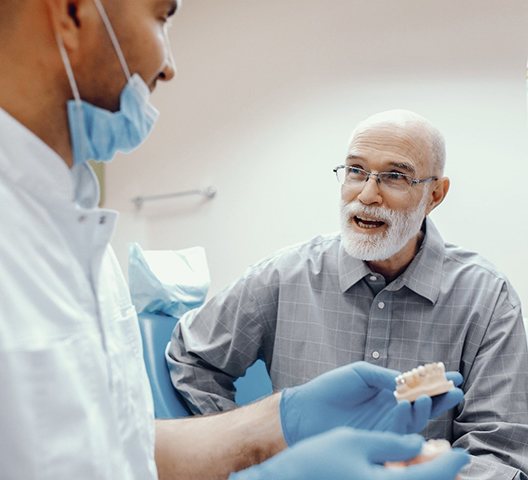 If you're looking for a quick, economical way to replace missing teeth, you can't go wrong with dentures in Doylestown. People have been rebuilding their smiles with dentures for generations, and they've only gotten better and better with modern advancements in dental technology. As impressively comfortable and natural as modern dentures look and feel, Dr. Rakowsky understands that you probably still have some questions. Below, you'll find a few frequently asked denture questions and their answers. Of course, feel free to call us if you can't find the information you need!
How Long Do Dentures Last?
Today's dentures are made from highly durable materials, but they're unfortunately not meant to be permanent. After tooth loss, your jawbone naturally changes shape over time. This means that no matter how well your denture fits at first, it will need periodic adjustments and eventually need to be replaced altogether. If you take good care of your dentures, you can expect them to last for seven to 10 years.
Can I Sleep While Wearing My Dentures?
When your denture dentist in Doylestown first gives you your new prosthetic, he'll most likely advise you to keep it in your mouth for the next 24 hours straight. This gives your mouth a chance to adjust. Afterward, though, we strongly recommend that you always take your denture out before bed. Not only does this create the perfect opportunity to clean your dentures by soaking them, but it also gives your jaw and gum tissue a break from holding your dentures in place throughout the day.
Can I Clean My Dentures with Regular Toothpaste?
Keeping your dentures clean is crucial for many reasons; it prevents discoloration, odor, and bacteria buildup while helping your prosthetic last longer. However, you should NOT clean your dentures with ordinary toothpaste. It can actually be abrasive to the materials that dentures are crafted from, leaving tiny scratches that lead to long-term damage.
Instead, be sure to gently brush your dentures with a soft-bristled toothbrush and liquid hand soap. Ideally, you should do this after every meal and snack. Also, don't forget to soak them in denture cleanser overnight.
Is It Difficult to Speak with Dentures?
There's a pervasive stereotype of denture wearers sounding muffled when they speak, but you shouldn't need to worry about that. While it can take some time to get used to talking with dentures, it will eventually feel just like talking with your natural teeth.
The adjustment period of learning to speak with dentures can vary from person to person. Most patients take somewhere from several weeks to a few months. Luckily, you can speed up the process by practicing often. In particular, reading aloud and singing your favorite songs are great ways to grow accustomed to your dentures.
If you find your dentures slipping when you talk, try biting down on them and swallowing. This should reseat them into place. Wearing a bit of denture adhesive can also help while you're still adjusting.