March 12, 2023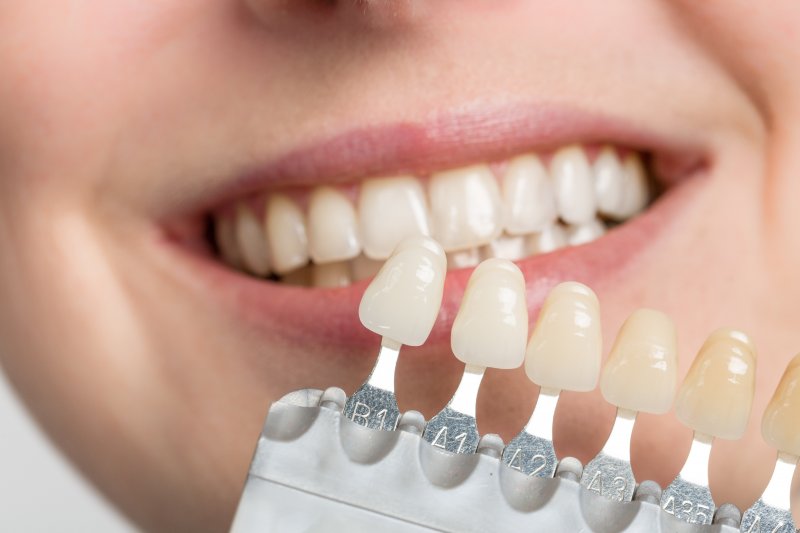 Even if you aren't all that familiar with veneers, odds are that you've seen them before without ever even realizing it. If you've ever wondered how Hollywood celebrities get those beautifully white smiles, veneers are often the answer!
You may also know that veneers are often made out of porcelain, but that doesn't necessarily have to be the case. There are other materials that your dentist can use to give you the smile you've been looking for. If you're curious, here's a guide to what your veneers can be made of.
Composite Veneers: A Common Alternative
If you're looking for veneers but are turned off by porcelain, it may be worth asking your dentist whether they offer composite veneers. These are the leading alternative to ceramic and can produce incredible results.
Your dentist can mix together a tooth-colored composite resin and layer it over your tooth, then polish it until it has that natural sheen that you'd associate with veneers.
The biggest difference between these and porcelain veneers is that your dentist won't have to remove any of your enamel, meaning that the procedure is less invasive and more reversible.
Why is Porcelain So Common?
With that in mind, you may wonder why porcelain is used so often for veneers. First of all, it's worth noting that composite resin is a much more recent innovation than porcelain—however, there are still reasons why someone may prefer ceramic veneers, even in the modern day.
Porcelain is considerably more durable than composite. If you're looking for a smile that can last you for years and years, porcelain is a great way to go. That strength also makes it a much better option for patients that have suffered a lot of decay and need that stability.
Which is Right for Me?
With these merits in mind, you may wonder which material is best for you. While porcelain is durable and versatile, composite resin is the more convenient option. Composite veneers are less invasive, can be administered faster, and tend to be a little more inexpensive as well.
Ultimately, both of these materials can give you an incredible set of veneers. If you're interested in this cosmetic treatment, it's worth talking to your dentist about which one is the smartest pick for you.
About the Author
Dr. Terry Rakowsky's experience as a dentist has spanned nearly 35 years, and even after all this time he's never gotten tired of giving his patients the confidence to smile again. Dr. Rakowsky received his dental degree from the University of Pennsylvania School of Dental Medicine. Since then, he has completed advanced training courses at both the prestigious Dawson Academy and the Las Vegas Institute for Advanced Dental Studies.
If you have any questions about veneers, he can be reached at his website or by phone at 215-770-2111.
Comments Off

on Do Veneers Need to Be Made Out Of Porcelain?
No Comments
No comments yet.
RSS feed for comments on this post.
Sorry, the comment form is closed at this time.