December 15, 2022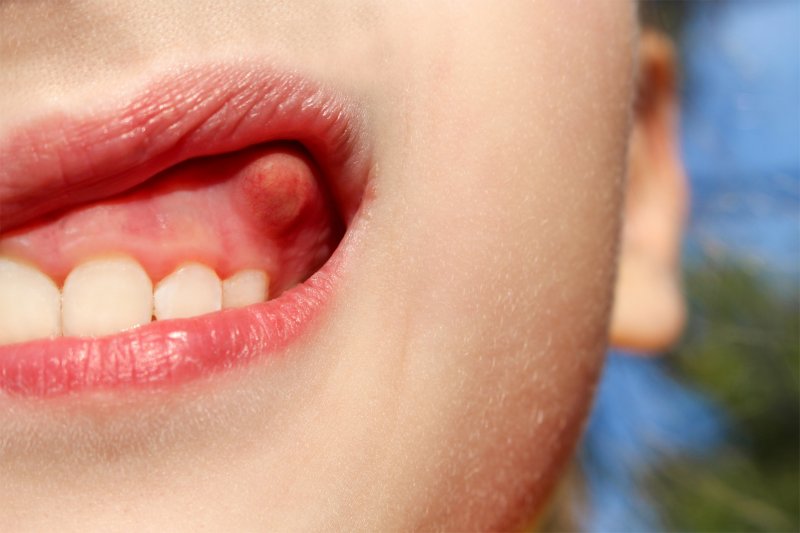 Unfortunately, oral health isn't always cut and dry. Outside of tooth decay and cavities, some mouth issues are tough for patients to diagnose. That fact is especially true when it comes to having a bump on your gums. While often harmless, this issue sometimes signals a severe dental problem. It's thus crucial to know the signs a gum bump needs medical attention. Fortunately, your Doylestown dentist can give you the lowdown. Here are some common causes for a bump on gums and when to see your dental practice for help.
Causes for a Bump on Gums
In most cases, a bump on your gums isn't a dental emergency. That said, it's helpful to recognize its potential causes. Some of the usual ones are:
Canker Sore:
If you didn't already know, a canker sore is a small mouth ulcer that can form at your gums' base. Though they're harmless enough, they can be painful when they're inside your mouth. Besides said pain, their symptoms include white or yellow spots with a red border, flat or raised bumps, and tenderness.
Thankfully, most canker sores heal in a week or two. If you have your own, you can take an over-the-counter pain reliever to manage the discomfort.
Fibroma
When it comes to tumor-like bumps on gums, an oral fibroma is the most common cause. The latter is a noncancerous lump that can form on irritated or injured gum tissue. When you get one, it's usually due to irritation from dentures or oral devices.
Fibromas are painless, and they often don't even need treatment. In cases of a large one, though, you can have your doctor surgically remove it.
Oral Cancer:
Admittedly, some gum bumps represent cases of oral cancer. It happens that a cancerous tumor on your gums might look like a small growth. In that case, you might also have symptoms like a bleeding sore, white or red gum patches, and a sore throat.
If you fear a bump might be oral cancer, follow up with your local doctor and start treatment if needed.
When to See Your Dentist for It
Call your doctor or dentist at once if you notice the following besides your bump:
Throbbing pain
Foul-tasting or foul-smelling breath
An unhealing, worsening oral sore
Red or white patches in your mouth
A bleeding lump
Whether it's a bump on your gums or something else, you can always get help from a qualified dentist. As such, see one in your area if you show the signs or symptoms above.
About the Author
Dr. Terry F. Rakowsky is a dentist based in Doylestown, PA, having earned his dental doctorate from the University of Pennsylvania's School of Dental Medicine. His nearly 35 years in the field have given him expertise in preventive, cosmetic, and restorative dentistry, not to mention emergency dental procedures. He is also a certified provider of Invisalign clear aligners. Dr. Rakowsky currently practices at his self-titled clinic and can be reached at his website or by phone at (215)-348-2224.
Comments Off

on Why Do You Have a Bump on Your Gums?
No Comments
No comments yet.
RSS feed for comments on this post.
Sorry, the comment form is closed at this time.