November 24, 2022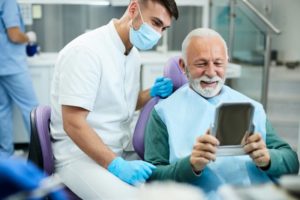 Whether you've just received your new full dentures or you've been wearing them for years, it's crucial for you to continue your routine oral up-keep, like scheduling bi-annual checkups and cleanings with your dentist. Even with from acrylic and porcelain replacement teeth, your oral health can still be compromised if your smile isn't being cared for properly. Read on to learn four reasons why regular visits with your dentist are crucial, even with full dentures.
Maintain Good Gum Health
Even without any natural teeth left in your mouth, maintaining good oral hygiene is crucial. Your full dentures are reliant on healthy gums because that's what holds them securely in place. If you don't regularly clean them at home, you could be at a heightened risk of gum disease, eventually leading to additional problems like bacteria accumulating in the mouth and oral sores. Your dentist can help keep this from happening by providing you with at-home gum care guidance as well as cleaning your mouth every six months.
Detect Problems Early
At each of your routine checkups with your dentist, they'll examine your mouth for any signs of oral health problems, including jawbone deterioration and gum disease. If they do spot issues, if you're visiting them regularly, you'll be able to catch and treat them early on before they can cause drastic harm to your smile and compromise your dentures.
Adjust the Fit of Your Dentures, If Necessary
As time goes on, your jawbone and facial structure will change because the bone is no longer being stimulated by the roots of your teeth, causing it to erode. As a result, you may notice your dentures beginning to feel loose or shift more frequently when you eat and talk. When left unaddressed, ill-fitting dentures can lead to oral sores and discomfort, increasing your chances of developing an oral infection. At each of your checkups and cleanings, your dentist can make sure your prosthetic fits securely and safely in your mouth. If they notice it doesn't fit right, they can adjust it to make them more functional and comfortable.
Extend Your Denture's Lifespan
Every six months you can get a professional's eye to examine your dentures, inspecting for any damage or concern that could cause issues down the road. They'll also be able to professionally clean them, preventing them from smelling or accumulating bacteria that could lead to a gum infection. With expert care and maintenance, your dentures can last longer, saving your wallet and time!
Even though your dentures aren't your natural teeth, they still require routine professional upkeep to ensure they're functional and continue looking great. Plus, with a clean bill of health, you can get the most out of your day-to-day use of your prosthetic!
About the Author
Dr. Terry Rakowsky has over 35 years of experience as a dentist, providing his patients with high-quality, reliable replacement teeth that are built to stand the test of time. Through thorough, routine preventive care, he aims to keep his patients' smiles healthy and happy. He's also an active member of several professional organizations and regularly takes continuing education courses. For questions or to schedule an appointment, visit his website or call 215-348-2224.
Comments Off

on 4 Reasons to Regularly See Your Dentist When You Have Full Dentures
No Comments
No comments yet.
RSS feed for comments on this post.
Sorry, the comment form is closed at this time.