November 10, 2022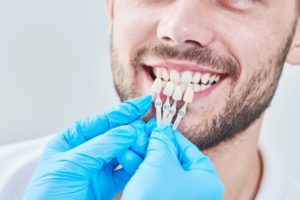 When you catch a glimpse of your smile in a photo or the mirror, is the first thing that you notice that your teeth appear small or short, making your whole smile seem unsymmetrical? Not only can this grating feeling wear down your confidence in your smile, but it can also impact how you interact with people by keeping you from letting your smile show. Fortunately, if having small teeth makes you feel these ways, your cosmetic dentist has a solution. Read on to learn how you can fix small or short teeth to make your grin appear more symmetrical.
Why are Teeth Small or Short?
It's not uncommon for some teeth to appear smaller and shorter than others. In fact, there's a term for this cosmetic imperfection, called microdontia. While some people may only have one or two small teeth, others may have all short teeth, severely impacting the overall appearance of their smile.
Microdontia is hereditary, so chances are, if your parents have short teeth, you and other people in your family may as well. However, sometimes it can also be a result of a genetic or development issue, like cleft palate or as a result of radiation exposure. In some cases, it can even be due to the nightly grinding and clenching of your teeth, gradually wearing them down to appear smaller than surrounding ones.
Can Small Teeth Be Made Larger?
Taking into account the underlying reason why your teeth are small, your cosmetic dentist can work with you to determine what treatment option would be the best solution for you. They may recommend one of the three procedures listed below.
Dental Bonding
Dental bonding is a cost-effective and convenient way to lengthen short teeth, but due to the process, your cosmetic dentist may not recommend it if all of your teeth are affected by microdontia. However, if it's a few, they can easily lengthen them by adding a biocompatible substance called composite resin to them. It fuses with the natural enamel of the tooth and is custom shaded to look lifelike.
Veneers
Veneers are an excellent option if most or all of your teeth appear shorter or smaller because they offer drastic transformative results. Each veneer is made to be adhered to the visible surface of the teeth, making them appear longer and your entire grin more symmetrical.
Crowns
Metal-free crowns can help restore the appearance of ground-down teeth as a result of bruxism; however, it's important to invest in a nightguard before crowns to keep bruxism from damaging your new restoration. These cap-like structures look natural and seamlessly fit over affected teeth to make them appear more symmetrical to surrounding ones.
Working side-by-side with your cosmetic dentist can help you find out the best way to transform your short and unsymmetrical smile into one that appears beautiful, complete, and makes your healthy teeth the main star of the show.
About the Author
Dr. Terry Rakowsky is a skilled cosmetic dentist with over 35 years of experience helping patients achieve their dream smiles. He has advanced training and experience conducting a wide range of treatments, including veneers, bonding, and crafting and placing metal-free restorations. He takes his time to listen to his patients needs, and based on that, he's able to implement personalized treatment plans that help fulfill them. For questions or to schedule a consultation to learn how he can help you fix small teeth, visit his website or call 215-348-2224.
Comments Off

on How Can You Fix Small Teeth?
No Comments
No comments yet.
RSS feed for comments on this post.
Sorry, the comment form is closed at this time.