October 15, 2022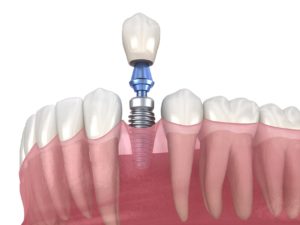 If you're ready to replace your missing teeth with dental implants, you might have several apprehensions about the road ahead. Don't worry, your dentist will take the time to explain everything during your initial consultation. However, they may use several unfamiliar terms, which can be confusing. Here's a list of the top dental implant terms you should know to understand every step of your journey to a complete smile. 
Abutment
An abutment is a special fixture attached to the implant post to connect a custom-made restoration. Each implant will require an abutment.
All-On-4
A method of treating complete tooth loss in an arch with a denture that's supported by 4 dental implants.
Bone Grafting
Patients with low jawbone density may require bone grafting. Bone from a donor or another area of the body is grafted onto the treatment site to provide adequate support for dental implants.
CT Scan
The scan creates 3D images of your oral structures to give your dentist a complete picture of your smile. The images will be used for the diagnostic, planning, and placement steps of your treatment.
Implant
A titanium post is inserted into the jawbone to serve as a new root.
Implant Denture
An entire arch of missing teeth can be replaced using a denture supported by 4 to 10 implant posts.
Mini Implants
Patients with decreased bone density can be candidates for mini implants, which are smaller than traditional posts. They can eliminate the need for bone grafting or fit in areas where a regular implant is too large, such as in cases of overcrowding.
Osseointegration
The implant stimulates new bone growth, allowing your jaw to fuse to the post through a process called osseointegration, which is vital for the success of dental implants.
Peri-Implantitis
Peri-implantitis is a preventable infection that can cause dental implant failure. Like gum disease, it can destroy the oral structures; however, brushing, flossing, and regular care from your dentist can prevent it.
Restoration
Depending on the number of teeth you're missing, you'll require either a crown, bridge, or denture.
Sinus Augmentation
The maxillary sinuses are located on either side of the nose. If bone loss has occurred, a sinus lift may be needed to add space for the implants to prevent them from protruding into the sinuses. It's often combined with bone grafting.
It's normal to have several questions about dental implants because they are a big investment. Your dentist will address any concerns to have 100% confidence in the decision you're making for your smile. You'll be well-informed and understand exactly what your dentist is talking about when choosing the next best thing to your real teeth.
About Dr. Terry F. Rakowsky
Dr. Rakowsky achieved his dental degree at the University of Pennsylvania School of Dental Medicine and has completed advanced training in many specialties, including dental implants. He is a proud member of various professional organizations, including the American Dental Association. contact our office today to request your consultation for dental implants.
Comments Off

on Dental Implants 101: Common Terms to Know
No Comments
No comments yet.
RSS feed for comments on this post.
Sorry, the comment form is closed at this time.